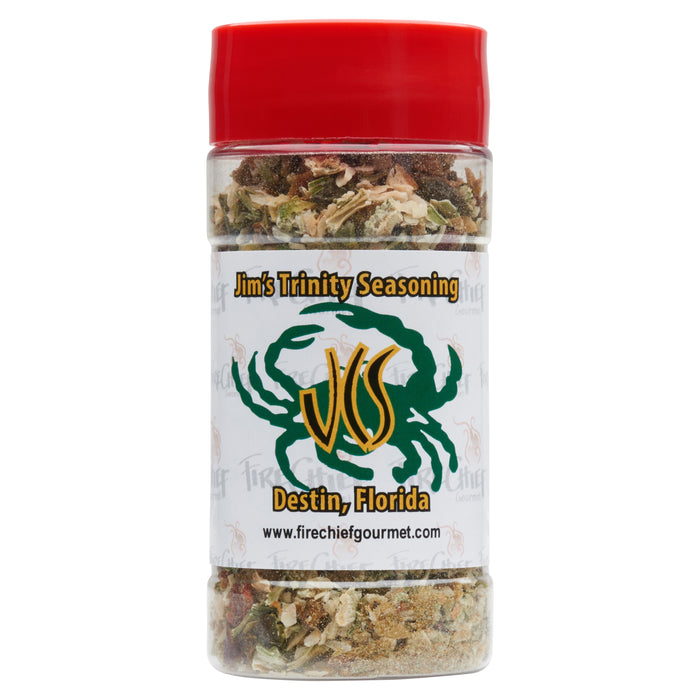 JCS Trinity Seasoning
by Okalocal
An aromatic so freakin' fresh that you'll slap it's face.
What's an aromatic? Glad you asked.
Basically an aromatic is a combination of vegetables and herbs designed to be heated in butter or oil at the beginning of a dish. The heat helps release the incredible aromas of the ingredients and gives whatever you're cooking the deep flavor that moves you from - is everyone up for pizza again? to Food Network star overnight.
But what does Trinity mean? Boy you ask some great questions.
There are lots of combinations of aromatics, depending on the dish or depending on the cuisine.
Chef Jim Shirah's Trinity is based on the classic Louisiana combination of Onions, Celery and Green Peppers. Used as a staple in Cajun and Creole cooking, the trinity finds it's way into thousands of gumbos, stews and other Gulf Coast dishes every year.
But wait, here is the best part! With Trinity seasoning, there is no chopping required. It comes already blended in a grinder for just chopped freshness without the work every time you use it.
The flavor is already mixed and ready to add so no chopping. Ever.

Fresh spices that you grind when you're ready to use for super freshness.

All natural with no fillers ever so you know what your family is eating.

Inspired by one of Destin's leading Chefs so you get what he uses in his kitchen.

One of a kind spice blend that you cannot get in stores. Be unique.
So to recap:
No Chopping. Fresh Grinding. Delicious Eating. Food Network Here I Come. 4 oz by volume.