Smile and Wave Sailing Adventures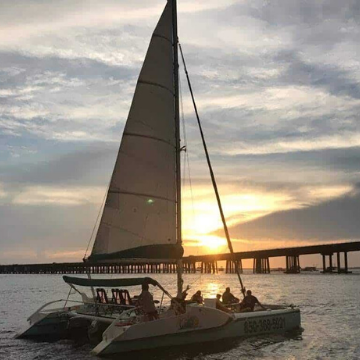 Sailing Under The Florida Sun! Join Captain Pam for a day trip aboard Smile N Wave Sailing Adventures. All of her day trips offer the ability to swim, snorkel, look for dolphins or watch the sunset on the Gulf of Mexico. You can also choose to visit Crab Island. The place Captain Pam likes to snorkel is called the Grass Flats. It is a shallow area where you can disembark the Sailing Catamaran and be waist-deep in water to hunt for treasures. Some things you may find while snorkeling includes seashells, hermit crabs, fish, shrimp, and occasional seahorse. Captain Pam allows you to take a hermit crab of your choice to the boat for a race before releasing it.
Private Tours & Charters:
Snorkeling Adventures are fun for all ages but we have a special treat for the older kids and grownups when the conditions right to travel into the Gulf of Mexico. Captain Pam loves to bring you sand dollar hunting. We get sand dollars on the second sandbar where you can dive anywhere from ten to fifteen feet. You can keep two sand dollars per person. Captain Pam suggests a four-hour cruise so you will have plenty of time to explore.
Party On Crab Island:
The really cool thing about Crab Island is it isn't really an island. It's a sandbar on the bayside of the Destin pass where locals and tourists alike come to anchor their boats, party, swim, cookout, and swim or walk to one of the floating restaurant shacks to grab a drink or a bite to eat. You are welcome to bring your own cooler with drinks and snacks, no glass, please. Crab Island is fun for all ages, they even have inflatable slides for the little ones to enjoy. People come from all over the world to charter a boat to this cool sandbar.
See The Dolphins:
The Gulf Of Mexico hosts some pretty friendly Aquatic Mammals, like the Tursiops Truncatus, or Bottle Nose Dolphin. These happy mammals are some of our best friends and they love meeting new people. We have thirty-five to fifty local dolphins who love to interact with the sailboat and passengers, and we get to see them on seventy-five percent of our cruises. When we are fortunate enough to interact with them, they will follow as we sail along. 

About Pam:
"I grew up here. My dad lived in Pensacola on the bayou so I spent summers there and my step-dad worked on charterboats. I grew up on the docks in Destin. I have 2 older brothers and I graduated from Fort Walton Beach High School. I started on a 46 foot catamaran and worked my way to Captain. I ran the Daniel Webster Clements, a 74 foot schooner for AJ's and always wanted my own boat. Had to follow my dream and see what God had in store for me. Okaloosa county is amazing because of our locals. They have rallied around my business and supported me from the beginning. They are the reason I'm in business. I have people that have sailed with me from the time I was a dock hand. I've watched customers kids grow up over the years. My customers, whether from here or out of town become family!


Smile 'n Wave is 31 foot custom built catamaran that is 19 feet wide. Most trips are 2 to 3 hours but you can go as long as you want. We see our local dolphins as well as swim, snorkel, sunset , go to crab island and enjoy fireworks! I can hold up to 6 people."